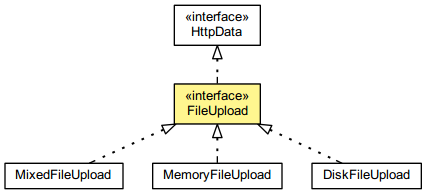 All Superinterfaces:

All Known Implementing Classes:

---




public interface 

FileUpload


extends HttpData

FileUpload interface that could be in memory, on temporary file or any other implementations. Most methods are inspired from java.io.File API.
Method Summary

Methods inherited from interface org.jboss.netty.handler.codec.http.multipart.HttpData

addContent, delete, get, getChannelBuffer, getCharset, getChunk, getFile, getString, getString, isCompleted, isInMemory, length, renameTo, setCharset, setContent, setContent, setContent
Copyright © 2008-2013 The Netty Project. All Rights Reserved.