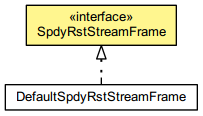 All Known Implementing Classes:

---




public interface 

SpdyRstStreamFrame

A SPDY Protocol RST_STREAM Control Frame
Method Detail

setStreamId

void setStreamId(int streamId)

Sets the Stream-ID of this frame. The Stream-ID must be positive.

setStatus

void setStatus(SpdyStreamStatus status)

Sets the status of this frame.
Copyright © 2008-2013 The Netty Project. All Rights Reserved.